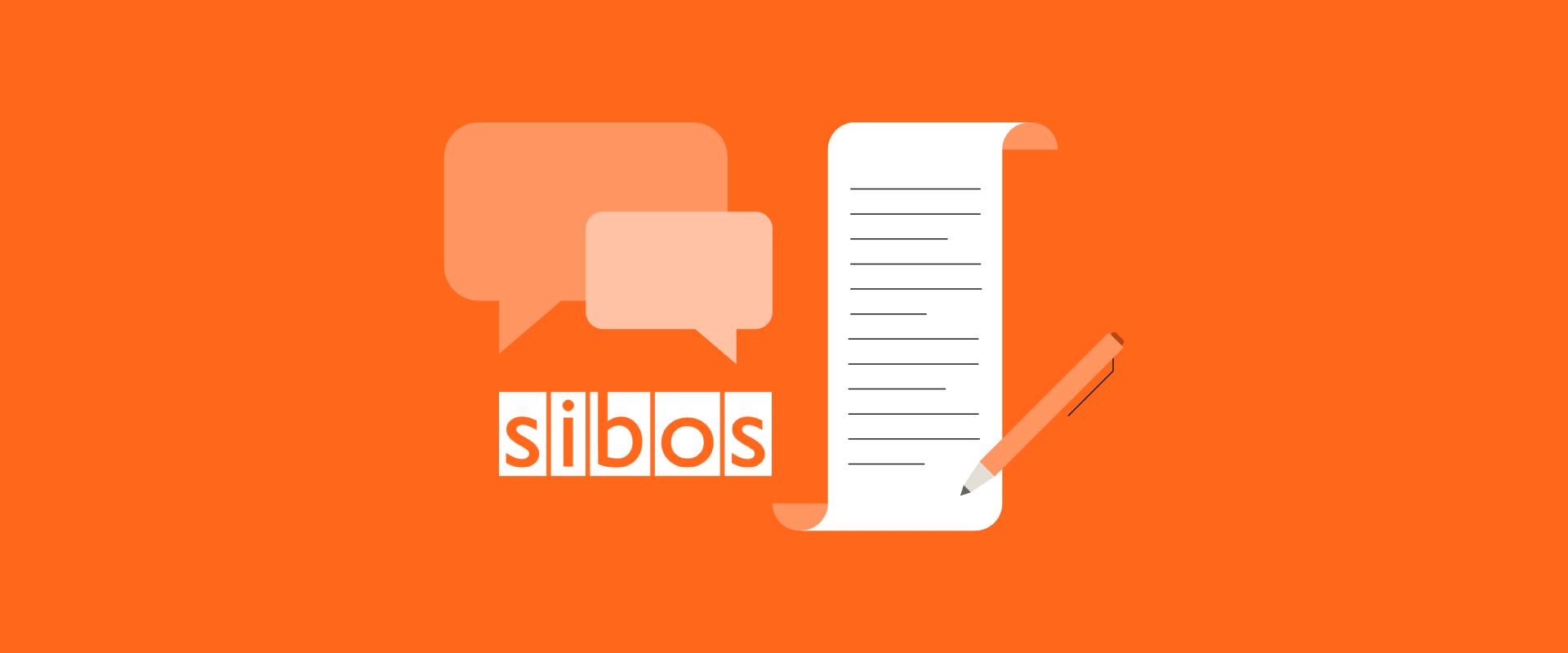 Frictionless future of payments
The daily digest from Sibos: Day one
September 1, 2019 | By Hayden Harrison
Our roaming reporter documents the headlines and discussions from Sibos. On the agenda for Monday 23 September: how banks and service providers build trust through advanced authentication, and a spotlight on McKinsey's global payments outlook.
 
Keynote: Building trust in emerging markets and the sharing economy
Discover Stage, 09:45–10:00 
Zac Coren, General Manager at Trulioo welcomed attendees to Sibos' most packed Discover stage schedule yet. Today's topic is trust and identity, integral to the overall conference theme: Thriving in a hyper-connected world.
"Trust is going to be the competitive advantage that takes our businesses to the next level," remarked Cohen. "Remember a time of 'trust you could see'?" Exchanges took place face-to-face, we learned about people; got to know them. But since then, the introduction of the smartphone has considerably disrupted the way we transact. "Interacting with mobile phones is changing our expectations for user experience. What we view and what we buy is all contained within a 7-inch screen." That's a very different transaction from a trust perspective.
"We prioritise access and speed; but if that convenience factor isn't available, we disengage." But has it overpowered trust? "Who'd have thought we'd jump into someone's car or stay in someone's home because an app told us it was safe to do so?"
Banks and financial institutions are the original trust-bearers. While they may not be the most 'modern', they're in the best position to build trust in the growing sharing economy. And it's no different in emerging markets than anywhere else:
"Identity is going to be the anchor; it should be central to financial service providers' strategies: 83 percent of users feel that their identity is their most valuable asset."
 
Panel: Unlocking the potential of biometrics in financial services
Discover Stage, 10:00–10:45 
Moderated by Veronique Constans, Programme Manager at Simply Businesses, the discussion centred around biometrics as one the financial industry is establishing trust and pushing forward to the future. 
Participants included Robert Prigge, President of Jumio: "we use facial biometric technologies to help companies establish trust remotely." Jumio's clients include digital-only bank Monzo. Also on the panel was Antony Ruddenklau, Partner and Global Fintech Co-Lead at KPMG. "My role is to help the economy become digital, and at the centre of that is identity." The final panel participant was Georgia Steel-Matthews, Chief Product Officer at PixelPin. PixelPin's technology replaces passwords with pictures to provide people and businesses with a simple, personal, and more secure way to log in to many websites and apps.
To date, we've been on a journey to make the authentication process faster and simpler, while at the same time more secure: "If you look at companies that operate in the shared economy, you want to authenticate the customer as quickly as you can," explained Prigge. "But people are now taking trust a lot more seriously." If you ask someone their name and address, they're only ever who they say they are. "Biometrics provide truth," explained Ruddenklau.
So how do we make the authentication experience as frictionless as we can without letting it become meaningless? Georgia Steel-Matthews from PixelPin: "We put some friction in to help users feel secure. We want users to be aware that their information is secure." It's a multi-layered process: "either first- or second-factor."
Where are biometric authentication technologies gaining most traction? In countries like China, where people more typically interact with their phones and other devices using their voice, biometric authentication is already baked-in: PixelPin is a UK company born and bred, but it has witnessed its fastest rates of adoption in Japan. "In the UK there's still a hesitancy." "It's weird for us, but not for those people that are used to it," added Ruddenklau. In fact, a lot of markets that we might consider to be behind in the race have leapfrogged ahead. Across Latin America and Asia-Pacific, for example, biometric authentication is fast becoming the norm. "They watched everybody else learn the lessons, and now they're embracing these technologies to bypass the market leaders… And they're not encumbered by legacy systems."
The likes of GDPR and other regulations can go a long way to driving people's trust, but we need to raise it up on a policy level. Antony Ruddenklau, KPMG: "We need funding to educate people on data protection and privacy. We can only protect so far within the industry; people need to be empowered to make decisions themselves."
And it'd help if the industry could drive toward one unified standard. "Without naming any names, I once came across a company that asked for a customer's long card number and PIN as authentication," shared Steel-Matthews. "Can anyone see why that might be an issue?" We're seeing progress, including the European Union's directive for Strong Customer Authentication, but we must be careful not to fragment the ecosystem. Its long-term success requires federal collaboration; international collaboration:
"We need to do more joined-up thinking on this, because the identity issue is truly a universal one."
What other challenges do we need to overcome? The first is assuaging people's fears of a 'Big Brother' state: "Few people understand the difference between biometric recognition — where you walk into a space and a camera matches your face to a database for monitoring purposes — and facial biometrics. Facial biometrics in a 1:1 or 1:n use case is more accepted." It bestows autonomy, rather than compromises it.
And what about the technology itself, is it perfect or fallible? PixelPin has conducted some research in this area: "If you are a white-skinned male, the error rate for facial recognition technology is one percent; if you're a dark-skinned female, the error rate is 35 percent." Is the development of biometric authentication subject to unconscious bias?
We're close to unlocking the potential of biometrics in financial services, but there's a little way to go. And how does this roll up from financial services to digital identity more broadly? We could soon see biometric identification move beyond authentication to identify who we are and what credit or access we possess or are entitled to.
Learn more about Mastercard's biometric card at mastercard.com
 
Presentation: McKinsey's global payments outlook
Conference Room 3, 12:15–13:00 
Philip Bruno, Partner, and Olivier Denecker, Managing Director, Partner and EVP at McKinsey & Company, unveiled this year's global payments report to a jam-packed room of banks and payment companies. Their conclusions, founded on research with industry participants and an economic model of 45 countries which account for around 92 percent of global GDP, compel banks to "go transform your business."
Payments promise significant revenue opportunities
Payments is worth nearly $2 trillion USD in revenue, and growth has stabilised (relative to transaction forecasts) at ~ six percent. But what's stabilised on the surface belies what's underneath as payments as a percentage of total banking revenue continues to increase. Projections show that banks will soon be nearly 40 percent payments companies.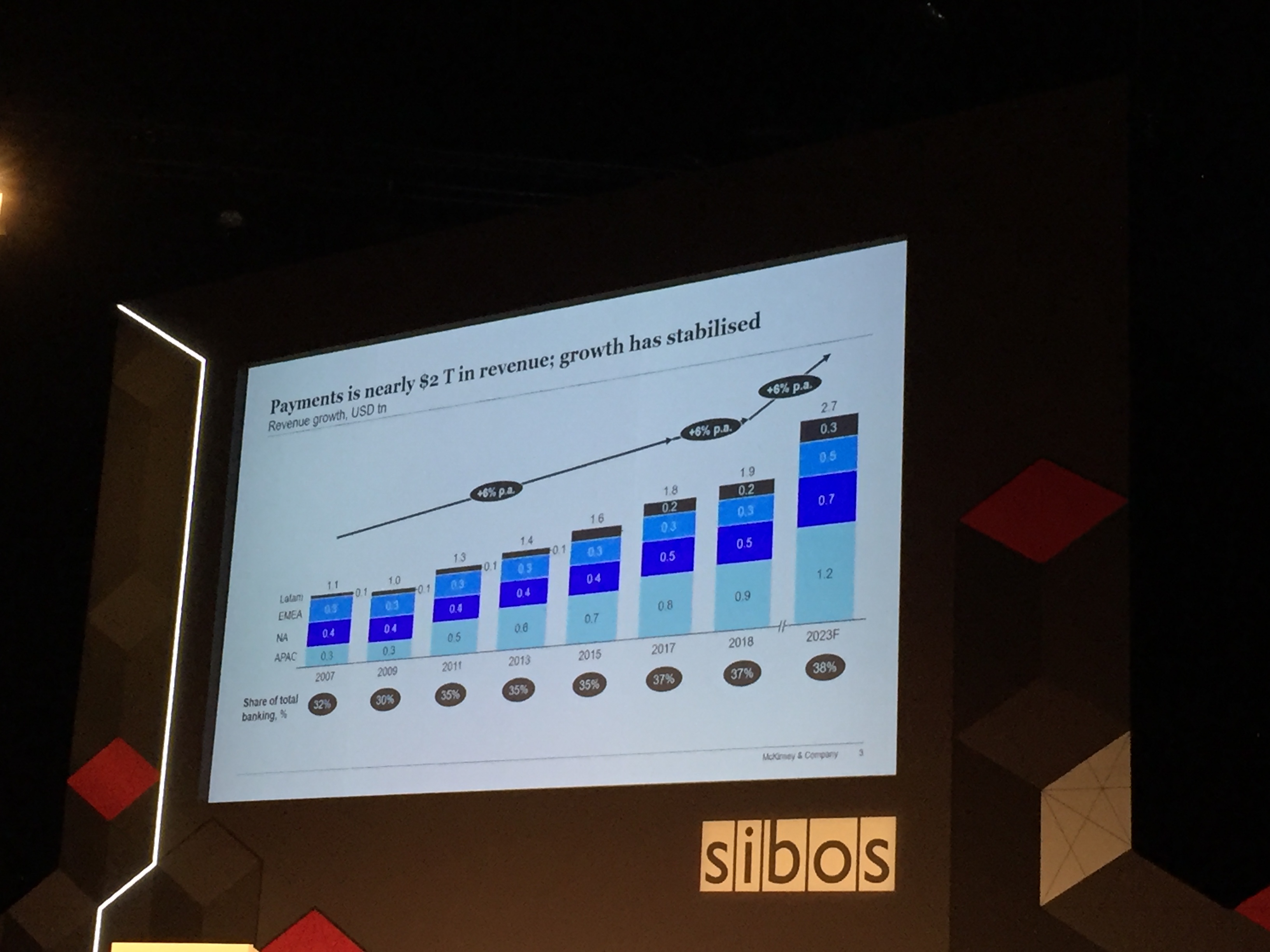 Transaction growth is concentrated in Asia–Pacific, predominantly China, and North America. While there's opportunity, the Chinese market isn't necessarily very accessible as most is embedded in incumbent banks and digital wallets. In North America, use of credit cards continues to increase with the rise of e-commerce, and strong transaction growth has supported healthy revenue growth (more readily than in Europe and elsewhere). Emerging markets meanwhile remain very localised, and the past year proves realities can change very rapidly.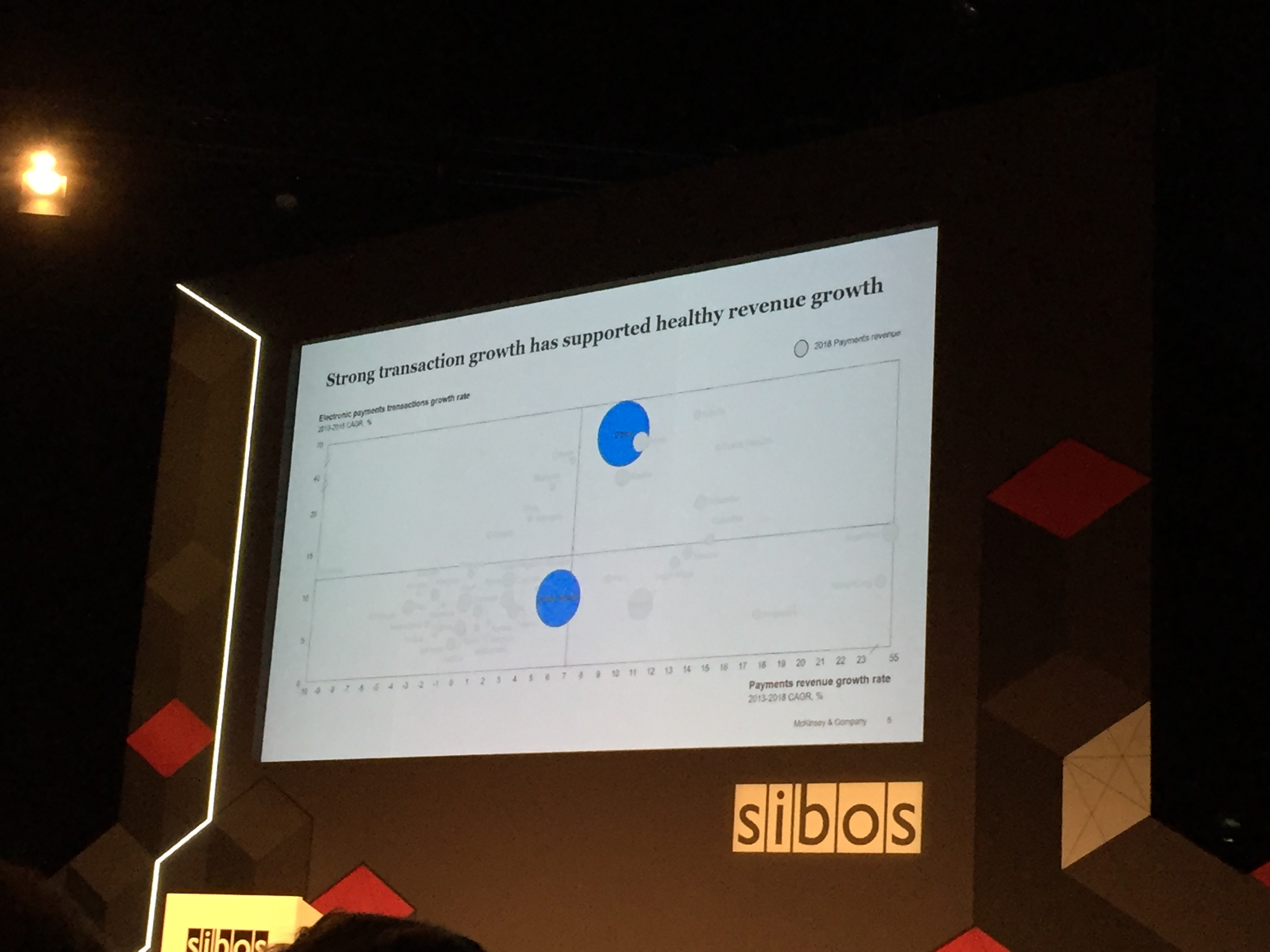 Cross-border opportunities are shifting
McKinsey reports that the greatest revenues and opportunities are in business-to-business payments — especially SME trade. There's also big growth in consumer-to-business payments, again driven by the rise of e-commerce, plus growth in business-to-consumer disbursements. Fifty percent of future growth is expected to come from Asia-Pacific. Globally, the report's authors predict continued growth in credit cards and the lending space, plus account-based liquidity.  
Challenges include the continued impact of regulation, managing IT integration, and innovating across complex product portfolios. In summary: "it promises to be a landscape of rapid disruption in the consumer space, expanding into the corporate space."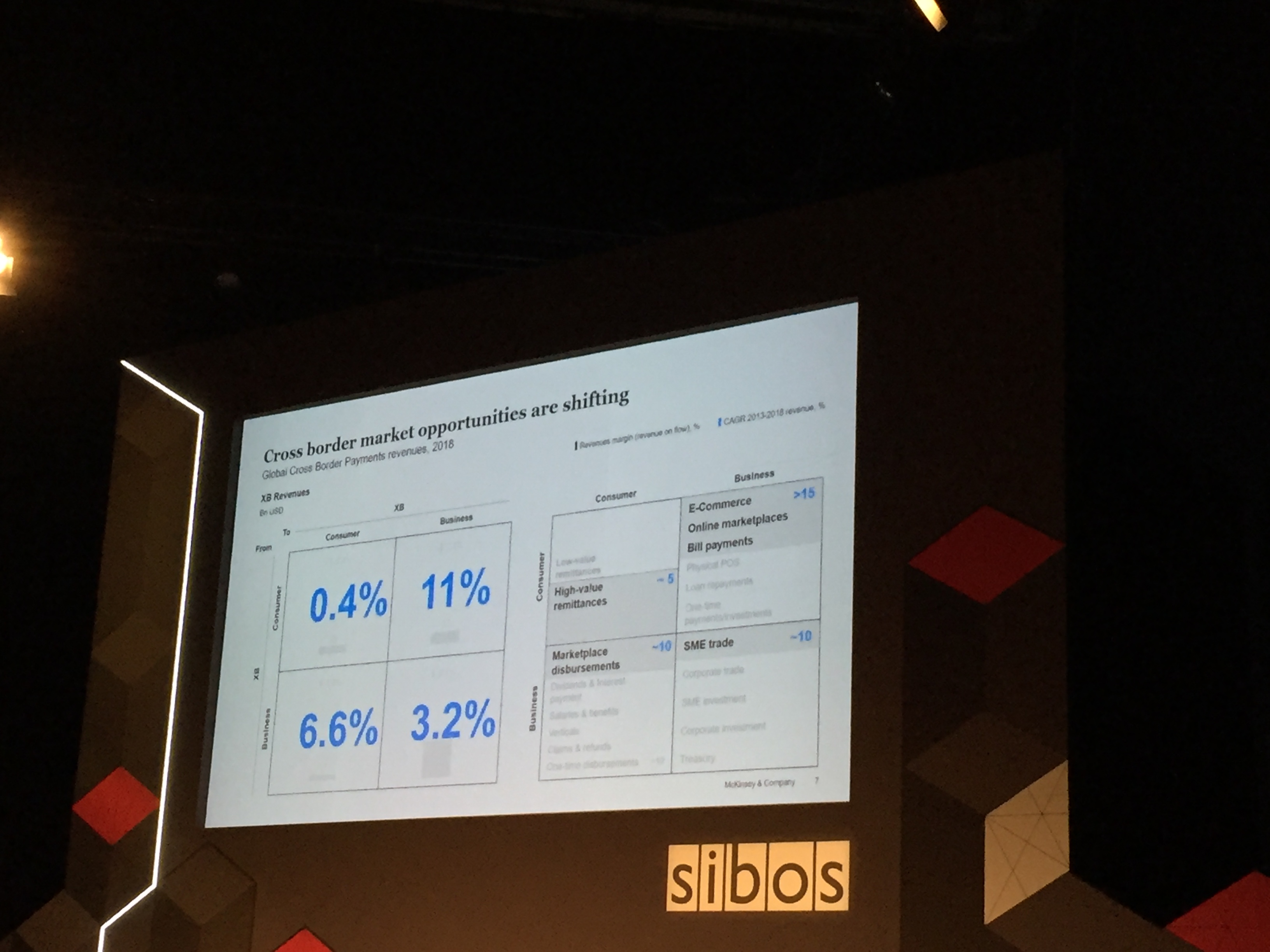 McKinsey's trends in global payments:
The value chain is being reconfigured. While some players will continue to diversify their offerings across payment flows and rails, we'll also see increasing specialisation. Transaction banks are expected to invest in and grow value-added services as an increasing source of revenue.
Players use mergers and acquisitions to advance their growth strategies. This can be categorised in three main ways:

By augmenting existing offerings with improved and expanded capabilities, such as PayPal's acquisition of iZettle

By creating distribution and operational scale, like FIS's acquisition of Worldpay

By rapidly entering hyper-growth segments and markets, as illustrated by Mastercard's acquisition of the Nets Corporate Services business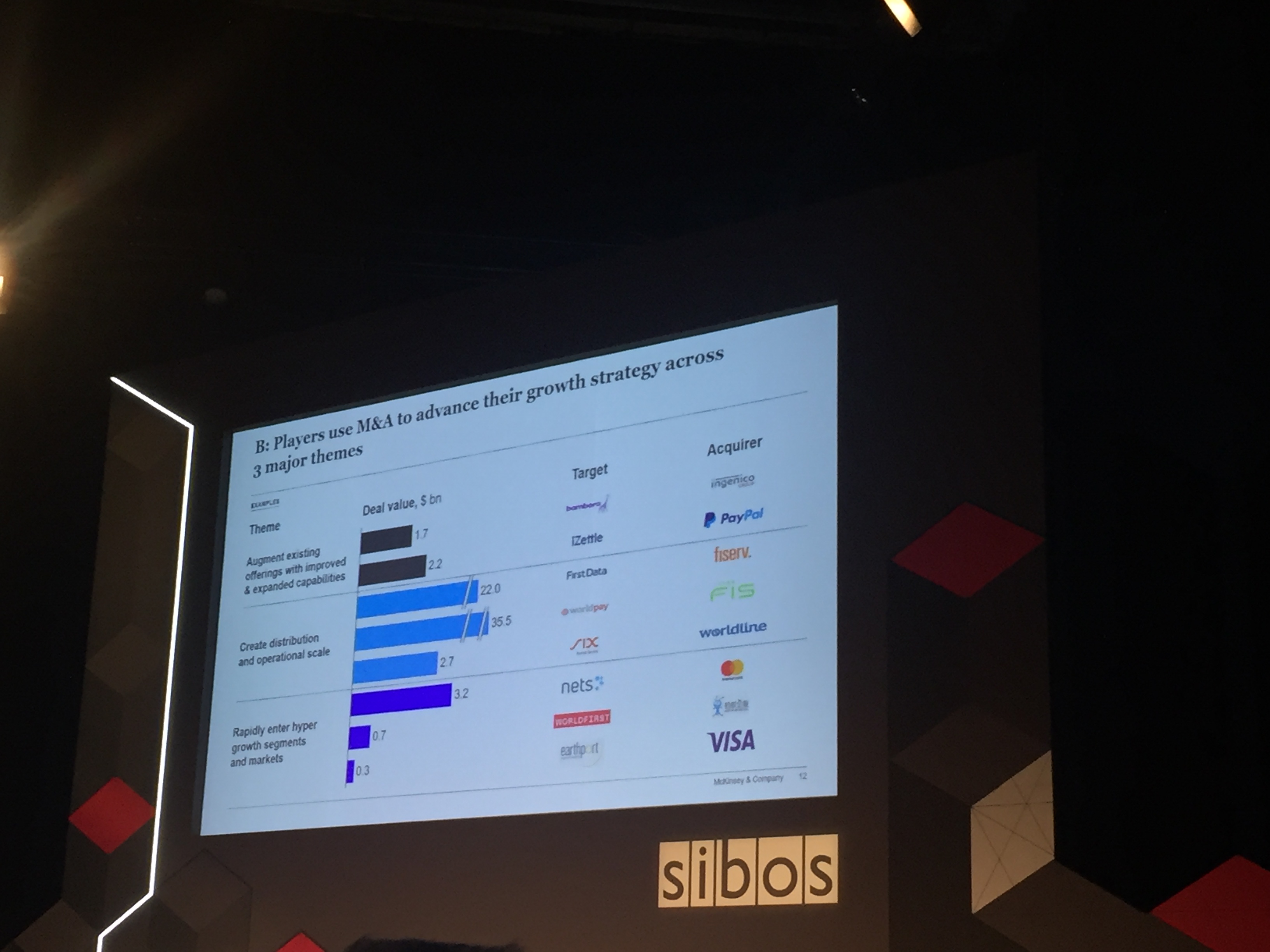 New platforms requirements open the door for accelerated growth of 'payments as a service' solutions. As payment end points continue to change, value will be captured at integration points, such as integrations with ERPs etc.. Increasingly, banks will find that "the value creation point is in the gateway.
Technology is bringing significant innovation in global transaction banking — and doing so at an unprecedented rate. The drivers include regulatory-driven and industry-led Open Banking initiatives, the use of analytics to solve real business problems, and a new focus on the digital customer experience.
Changing customer needs not only affect retail and SMEs: marketplaces and ecosystems are demanding more from their banks. Customers are increasingly looking for 'business partners' to support and advise them in areas such as growing their revenue, on-boarding processes, and customer experience.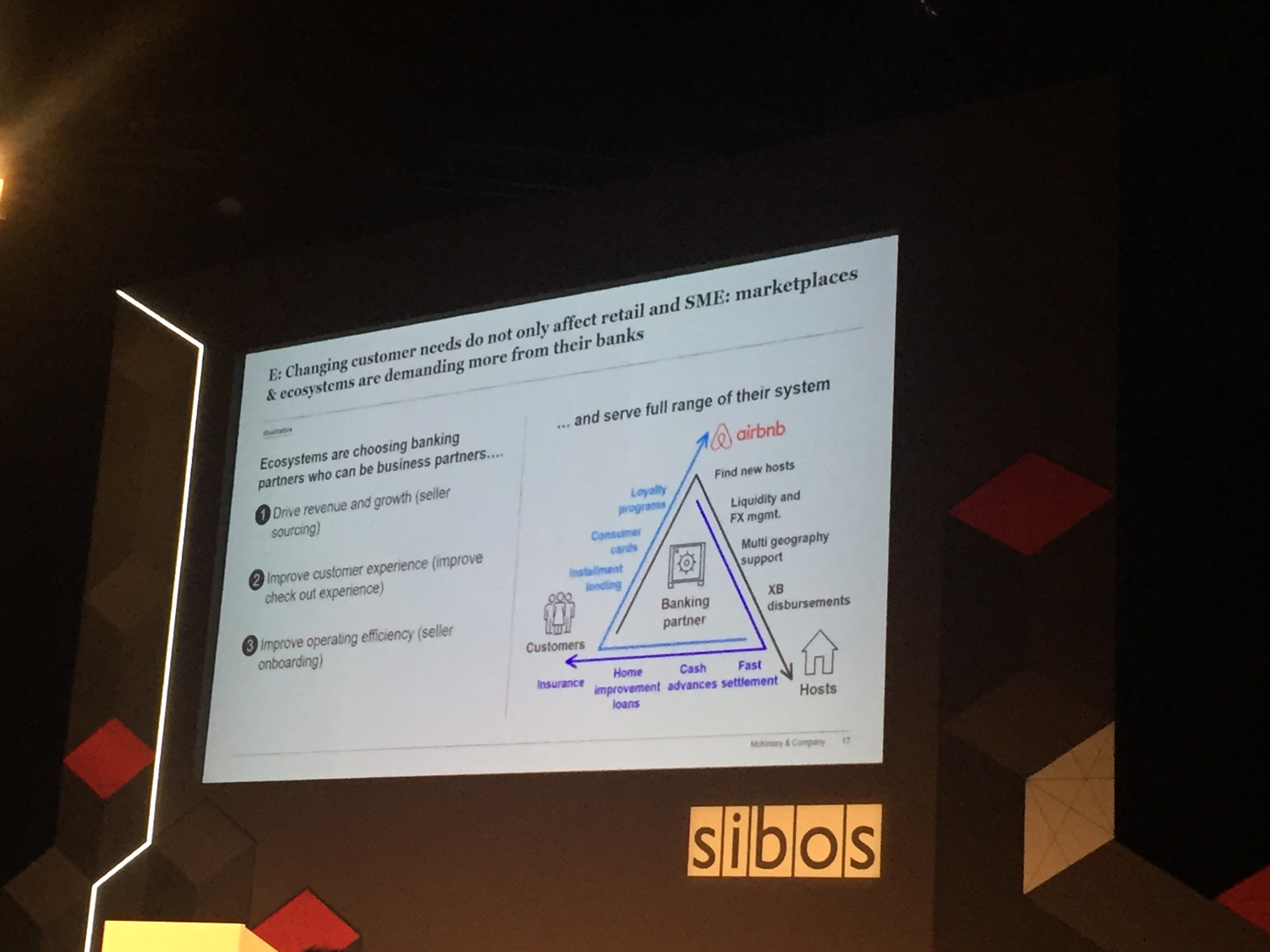 Banks are no longer capturing all of the relevant payment revenues. As the shift to digitally-enabled services and firms accelerates, will banks 'turn the tide' now as they did in 'Internet 1.0' by acquiring the IP (which helped drive payments industry innovation); or will the outcome be different? This time around, the 'challengers' aren't start-ups but 'Big Techs', with large customer bases and significant funding pots; they're already an established part of the customer experience (and sit squarely within the ERP chain). What's more, they're being enabled and encouraged by regulation, such as PSD2.
"Will we see the same movie again?"
Having offered these insights, the McKinsey duo asked: "How will you compete in this new world going forward?"
The report details an era of unprecedented change in payments and warns that 'pilots' and 'initiatives', being incremental, are unsustainable. "The nature of change requires immediate and radical action on priority initiatives", which encompasses banks' products, customers and operating models.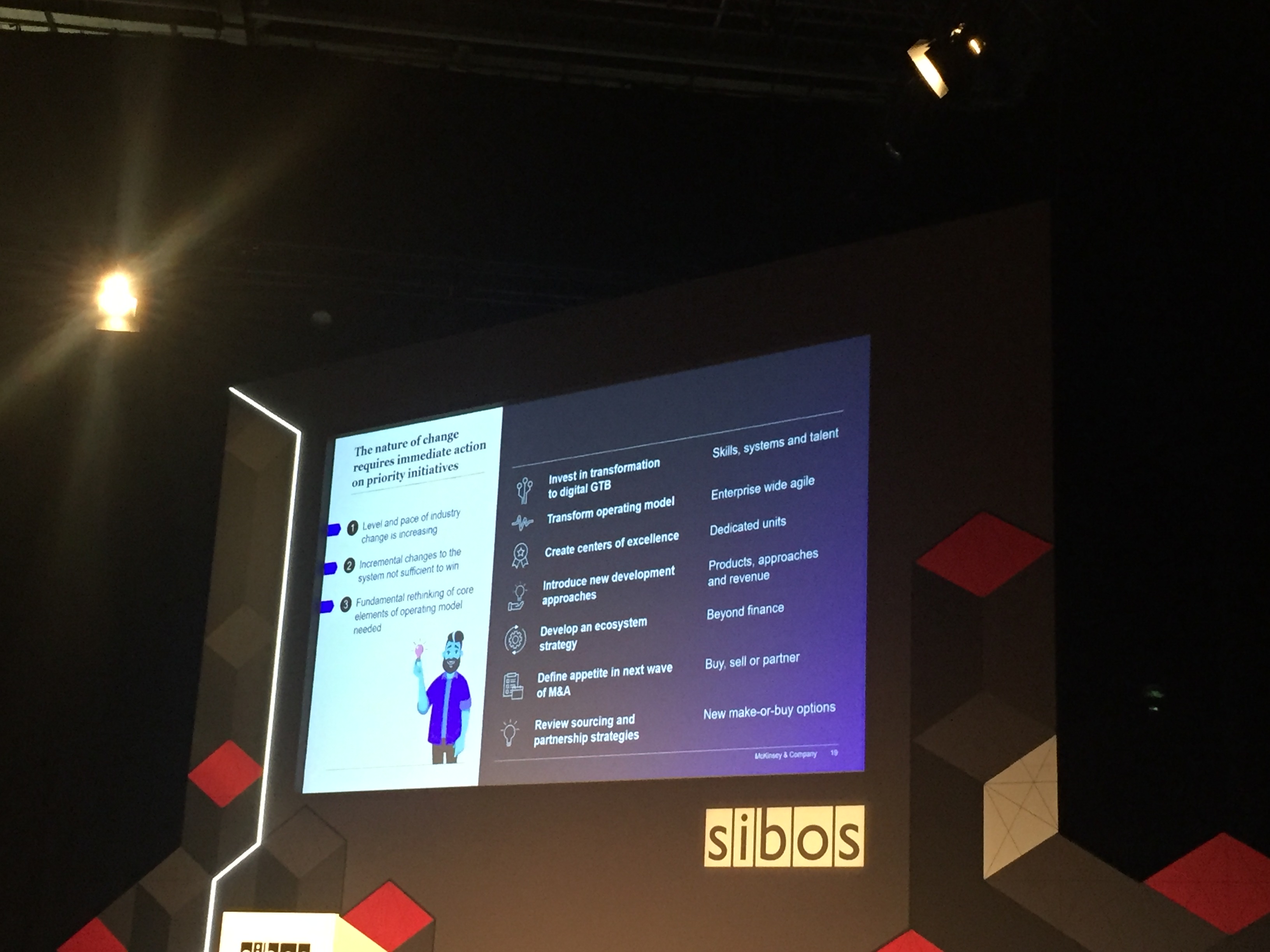 "It's clear that in this world, people do not want to pay for a payment."
This is a new world, where customer sentiment has changed — nobody wants to buy a mortgage; they want a home. People are willing to pay for an experience, which is where the Big Techs can most effectively compete.
So, will banks buy into or sell out of the payment space? Either way, McKinsey's advice: "Go transform your business."
The global payments report is available to download at McKinsey's website.
Thriving in a hyperconnected world
Carlos Menendez, President of Enterprise Partnerships shares what this year's conference theme 'Thriving in a hyperconnected world' means to him.